Agro Trade Between Africa & GCC: Ethiopian Airlines Joins Hands with CRENOV8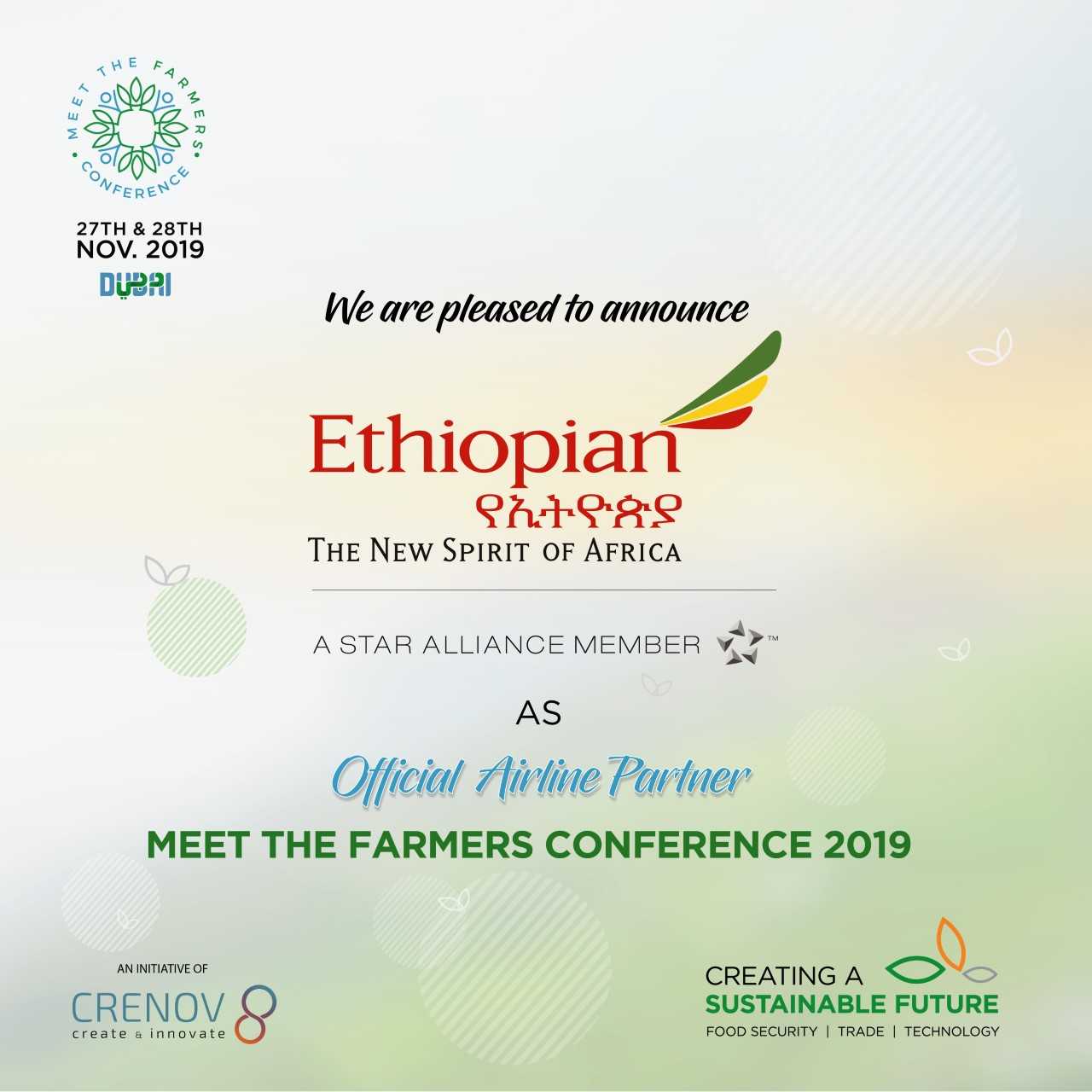 We are happy to announce that our parent company CRENOV8, has signed a partnership with Ethiopian Airlines – Africa's Largest Airline.
Crenov8 is a leading Management Consulting and Digital firm headquartered in Dubai, United Arab Emirates. With this partnership, Ethiopian Airlines will be our 'Official Airline Carrier' for 'Meet the Farmers Conference' (MTFC) 2019.
A first-of-its-kind event, MTFC aims at bridging the trade gap between African & GCC region and is scheduled on 27th & 28th November 2019 in Dubai. The 2-day event will witness exhibitions, trade sessions and keynote speeches by stakeholders, off-takers, investors, farmers, dignitaries and innovators from across Africa and the GCC region travelling down to Dubai to build trade relations and network.
Seeing the potential and outreach of the initiative, Ethiopian Airlines partnered with us to ease the transport of over 500 attendees that will be participating in the event. They offer a 15% discount on business class fares, and a 12% discount on economy class fares will be provided to passengers flying to Dubai for the MTFC – 2019.
Ethiopian Airlines operates an extensive fleet that serves over 105 international destinations and over 20 countries within Africa. This makes them the largest African airline by the number of passengers carried and ranks them 4th by the number of countries served.
The partnership will unveil the previously untapped 'Agro-conference airline' territory for Ethiopian Airlines and will position it as the 'Go-to' airline for agribusiness stakeholders attending the MTFC – 2019. MTFC's theme for the year is 'Creating a Sustainable Future' which is anchored on increasing agro-trade activities and leveraging export promotion as well as technology innovation to create sustainable agro-trade partnerships between African and GCC regions.
The previous editions of Meet the Farmers Conference have hosted dignitaries like H.E. Juma Mohamed Al Kait – Undersecretary to the Ministry of Economy UAE, H.E. Saud Salim – CEO of the Hamriyah Free Zone Authority, H.E. Samata Bukari – Consul General Consulate of Ghana in Dubai, Emmanuel Ijewere – Vice President, Nigeria Agribusiness Group amongst many others. This year's conference promises to be bigger and more impactful; hosting stakeholders and dignitaries to learn, collaborate and build long-lasting partnerships towards the common goal of promoting agri-business relations between African & GCC regions.